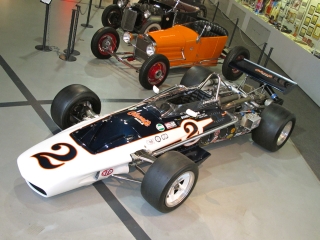 In honor of Memorial Day and the Indianapolis 500 comes this legendary turbocharged Offenhauser powered Indy 500 special from 1971. The racer is not just any Indy car, but one affixed with the original
Gurney Flap
on its rear wing. We know this because while at the
Mickey Thompson: First American to 400 MPH
opening, Dan Gurney himself told us that was the case. He also told us that this car had 10 mph on the McLaren cars with its boosted 161 cubic-inch version of an engine that is synonymous with American motor racing as the Brickyard itself – the twin-cam
Offenhauser
. The Olsonite Eagle was hatched at Gurney's Costa Mesa, California All American Racers shop in 1971 as a development platform for the 1972 and beyond AAR Gurney Eagles. During testing in Phoenix driver Bobby Unser challenged the pit side powers to come up with a solution to solve the apparent slower than the pack nature of the car. Gurney affixed a thin strip of hardware store aluminum to the trailing edge of the rear wing, and the secret weapon known as the Gurney Flap was born.
In 45 minutes or so, the first Gurney Flap was fabricated and attached to the car's rear wing, and Unser went out again. Within a couple of laps it was clear he was circulating no faster than before and everyone in the pit assumed the flap was a failure. But when Unser came in he called Gurney over and quietly asked him whether anyone was around to spy on what they were doing. Once Gurney had confirmed they were alone, Unser told him the rear was now so well planted that the car was pushing (understeering) badly, hence the poor lap times. All they needed to do was restore the aerodynamic balance by adding more front-end downforce and the car would be transformed. Keith Howard, Motorsport Magazine via AAR
So successful was this simple innovation that other teams started attaching Gurney-like flaps in the wrong places in failed attempts to duplicate the All American Racing success. This Eagle was designed by Len Terry with influence from Gurney AAR design hotshot Roman Slobodynski – who would go on to design the race-winning 1972 and later Gurney Eagles.  The Olsonite Eagle was piloted by Bobby Unser, who qualified on the front row in third for the 1971 running of the Indy 500. Bobby Unser was out in front of the pack twice, but spun and stacked getting around the burning hulk of Mike Mosley's car during lap 164. Even with the crash, Unser took a 12th place finish with this boosted Offy-powered AAR Eagle. Bobby's brother Al Unser took the checkered flag. The thin strip of aluminum that is the Gurney Flap is common in racing today, and stands as a symbol of a time in American motor sport when experimentation and testing was done in real time and on track, with innovation and greatness as the end result.
Thanks to the NHRA Motorsports Museum for displaying the car and Gary Schroeder Enterprises for restoring this gem of American history. Find Dan Gurney at All American Racers.