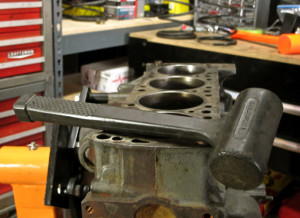 Direct from the Van Nuys desk of the Tool of the Week aptly named hammers division comes the dead blow hammer, or mallet. There are many hammer-mallets, but none have the unique functionality of the dead blow hammer. Inside the hollow plastic or steel center of the dead blow hammer head is a measure of sand or steel pellet shot. The pellets are similar to those found inside a shotgun shell. The shot dampens the rebound or bouncing associated with lesser hammers. The shot also softens the hammer blow to your wrist and hand. The quick-shifting shot even adds bonus power the hammer blow. The shot delivers its mass and inertia to the inside of the hammer face a split-second after contact with the frame rail, steel shelving, 55-gallon drum lid, or whatever else is being hammered. Bonus double hit!
While the dead blow hammer is great for smacking together wooden joists, convincing automotive chassis parts into place, or use anyplace where a focused blunt force is required, the somewhat malleable faces of the hammer are not suited for use on sharp objects such as chisels or nails. Some dead blow hammers and kits come with replaceable faces, making these dead blow hammers akin to the subject kid in one of our favorite Richard Hell and the Voidoids songs – The Kid with the Replaceable Head. Always wear safety glasses when operating the dead blow hammer. A exceptionally mighty Thor-like hammer blow could cause the dead blow hammer head to asplode, sending plastic and steel shrapnel in every direction. Unless like the kid you can pick your replaceable heads at will from the shelf, wearing the safety glasses while hammering anything is a capital idea.
Special thanks to Alex Nunez for the Tool of the Week tip.