Editor's note – The man known only as Wrenchski provided this from the Barcalounger and love seat roundup of the 94th running of the Indianapolis 500 in exchange for one mint condition still-in-plastic California Masons Erase Drugs pencil eraser.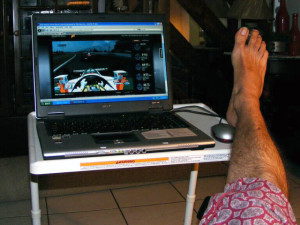 The lascivious Mrs. Brady does the national anthem justice online as Jewel does it for the TV audience. WTF? At least it didn't get hip-hopped. We all wait for Gomer Pyle to bring us back to Indiana. The more things change the more they stay the same. Who let Musburger in here? Somebody besides me knows something as one of the live driver camera feeds is Tony Kanaan, and he starts dead last. Shouldn't use that word. Mary starts the engines. Wonder if Robin Roberts driving the pace car will make Lone Star JR wet his pants a little. Jack Nicholson in the flag stand. Can he handle the truth? Green and Helio checks out as Davey Hamilton crashes his Indy dreams and those of the supermod set. We'll restart. Five laps later and Tony Kinnan is up to 24th. 23rd. 21st. Stop showing the the whiner and show Kanaan! 19th.
Crash for Bruno, and Sarah's team is down another car. Tony Kanaan has sliced through half the field. Two yellows have re-bunched the pack so the leaders don't get away. SCREW the track feed, I'm switching to the Tony Kanaan in car. More TV about the Whiner. Is no one on the TV team watching the scoring sheets? From 33rd to 17th in 11 laps? E.J. Viso finds the only way to pass an Andretti is in the grass. Kanaan to 16th behind another Andretti – Marco, who won't even let you pass gas no less give up a position. Marco passes Justin Wilson and leaves him in the Kanaan crosshairs. Will Power brings out a caution in the middle of pit stops by leaving with the half the fuel nozzle still in the car Grandma at the Stop 'n Save. Whoever told Power to go will be WORKING at Stop 'n Save after Penske gets done with him.