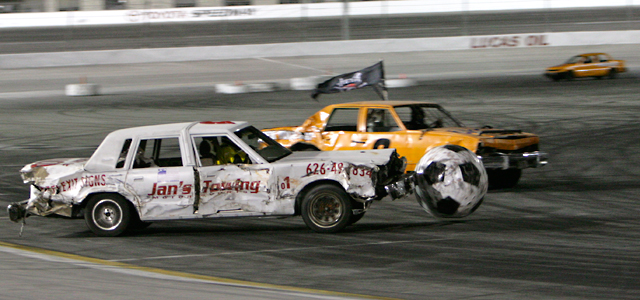 Start with a bunch of demolition derby-spec cars and station wagons. Add a 400-pound steel ball that was at one time a propane tank. Combine the two with the world's most popular sport and you have Auto Soccer at Irwindale Speedway. Robert Rice hatched the idea to meld the previously disparate worlds of Demolition Derby and Soccer together about three years ago. "We used to play at Saugus with a 1000-pound ball. It was eight feet tall. It was an old water buoy. We brought it here to try it, and they've liked it ever since," said Rice. Unlike actual soccer, this automotive version is a full-contact sport. With Led Zeppelin's When the Levee Breaks crackling through the loudspeakers after a blistering infield session of Figure-8 racing, it was time to cap off the evening of action with the mechanical mayhem that is Auto Soccer.

After a short practice session for new players, the Jan's Towing and Pick Your Part teams staged in their machines and the the game was on. Just like actual soccer, Auto Soccer involves getting ball through a set of goals at either end of the field. The goal posts were two sets of white painted rubber tractor tires at either end of the track infield. Did we mention the ball is steel and weighs 400 pounds? All bedlam broke out from the beginning, but it was soon clear the Pick Your Part team had the advantage. Victory to El Pulpo! While Noberto Longo and Andrés Cantor have moved onto the great commentator skybox, maybe the Auto Soccer guys can get Tony Tirado to call the action, and conjur the famous extended GOOOOOOOOOOAAAAAAL through loudspeakers every time a '70s Lincoln LTD or Chevy Caprice knocks the 400-pound steel soccer ball airborne through the tractor tires.
Toyota Speedway at Irwindale features racing nearly every weekend , an 1/8 mile drag strip and King Taco. Support your local Speedway!
Auto Soccer Mayhem at Irwindale Speedway