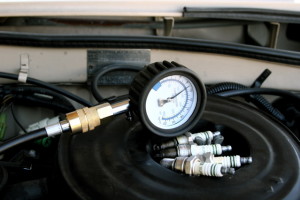 The way Clunkbucket learned about how and why to run a compression test on an engine came only after bolting almost every conceivable replacement part onto a 318 V-8 in a 500-dollar '67 Plymouth Barracuda. Only after a compression test was it determined that the engine was closer to a V-5 than a V-8. As Foghorn Leghorn often trumpeted, there's a right way – and there's a wrong way. Running a compression check only after replacing perfectly good carburetors and everything other engine related part is the wrong way. Running a compression test is one good way to see what's going on inside an engine without talking it apart.
Squeeze Play
An internal combustion engine makes power by drawing in a mixture of air and fuel, pushing the mix into a confined space, and lighting it aflame. The energy from this explosion pushes the cylinder back down into the hole. The valves and seals, pistons and rings, and cylinder wall surface all work together to create a tight seal. If any or all of these parts that keep the power inside the cylinder wear out, engine performance suffers. The reason the old Plymouth was going nowhere despite a carburetor rebuild, tune-up, and so on, was that cylinder number two, seven, and half of number five had almost around zero compression. The old 318 V8 had a few dead holes.
Worn Out
In a perfect world, the parts inside an engine slowly wear out together. In every other world, this rarely happens. If an engine burns voluminous amounts of oil, is down on power, or is just plain running like a drunk monkey despite your best efforts, a compression test is a good way to tell what's going on inside the engine without taking it apart. The thing to hope for from a compression test is even numbers. If all the cylinders check out within 10 or so PSI of each other, and those numbers sync up with the factory pressure specs, then you're good to go. If one or more of the cylinders show a difference of 15 or more PSI then there are problems. A service manual will have the specs along with helpful guidance on drawing conclusions from test results. A leakdown test can peer deeper into engine problems if the compression test doesn't check out.
EZ Step-by-Step Compression Test
Dead Holes
If one cylinder shows a low reading, remove the compression tester and squirt some engine oil inside the spark plug hole and test again. If the second test reveals a higher reading, then worn piston rings or cylinder walls may be the culprits. If the reading stays the same then suspect worn valves or sunken valve seats. If the gauge shows a very low or zero on any one or more of the cylinders then you too may be the proud owner of a V-5 and-a-half. Rotary, two-stroke, diesel, and perpetual motion engines call for a different procedure. An engine with low compression in one or more cylinders will never run right – no matter how many new parts are connected to it.
Useful Things:
Owner's or Service Manual
A Healthy Battery
Spark Plug Socket and Extension
Hand Tools
Compression Tester Gauge Kit
Helper to crank the engine, and make you knock your head on the hood by laying on the horn
Engine Oil
More: Tool of the Week