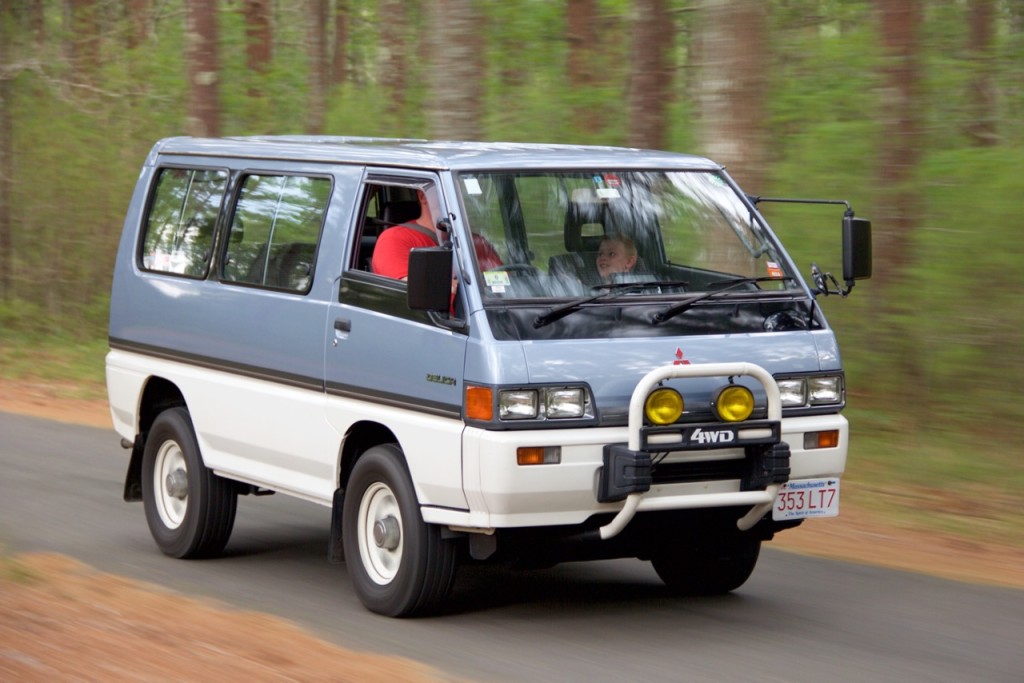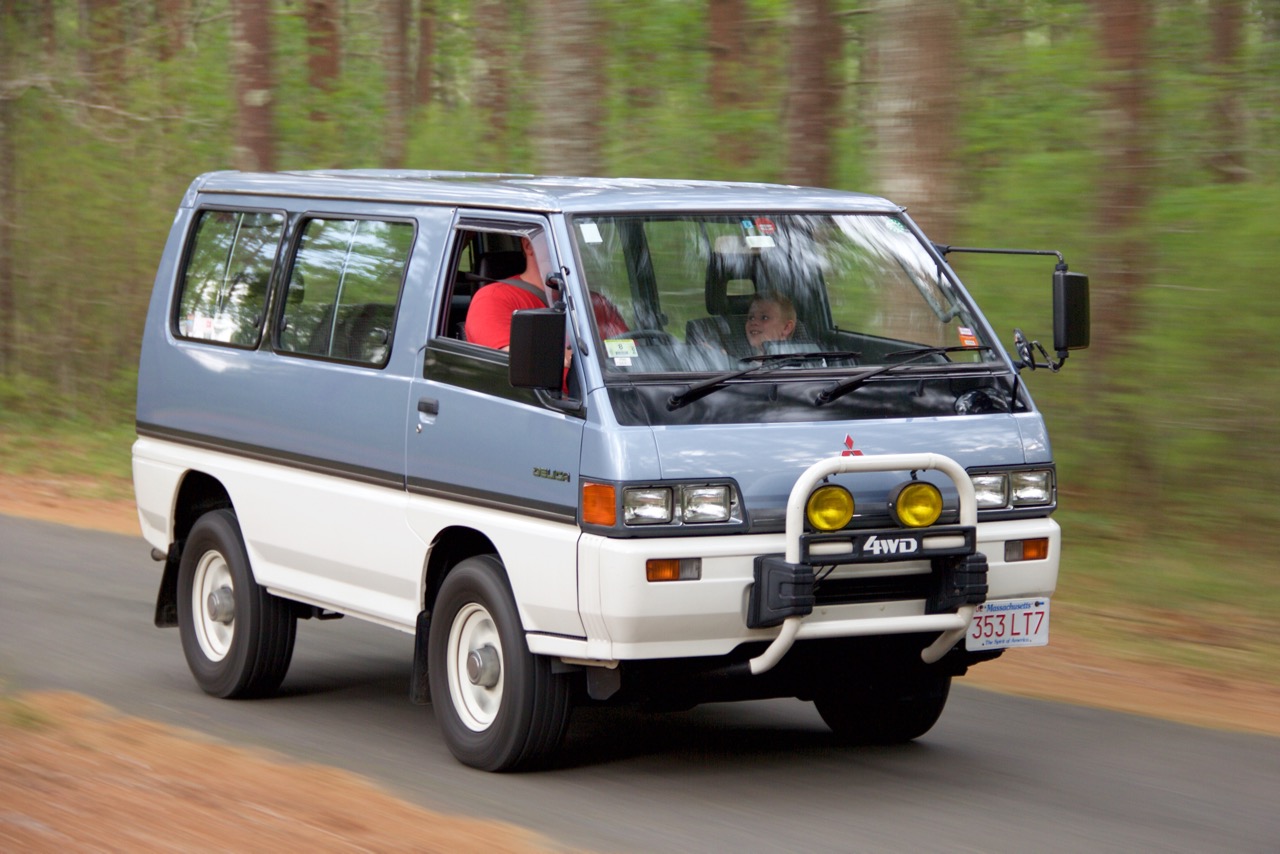 The Mitsubishi Delica made its debut in 1968, and is now in its fifth generation. The Delica moniker was coined from the contraction the English words delivery and car. The Delica was sold in light commercial truck and van versions, and was in its third generation of production when this 1989 Delica Starwagon 4WD low roof was built, featuring unitbody construction with a new-and-improved look which Mitsubishi called soft cube style. The third generation Delica were built from 1986-1994.
The groundbreaking feature of the Delica series never offered in America was off road capability. The 4WD Delica was introduced in 1982, and borrowed some goods from the Dakar Rally winning Pajero-Montero engineering department. Dual range 4WD was joined by a brace of skid plates and bull bars for a eight passenger van that could and did go almost anywhere at anytime. The 4WD Delica packed the right combination of modern engineering and relatively luxurious features in a supremely capable off-road package.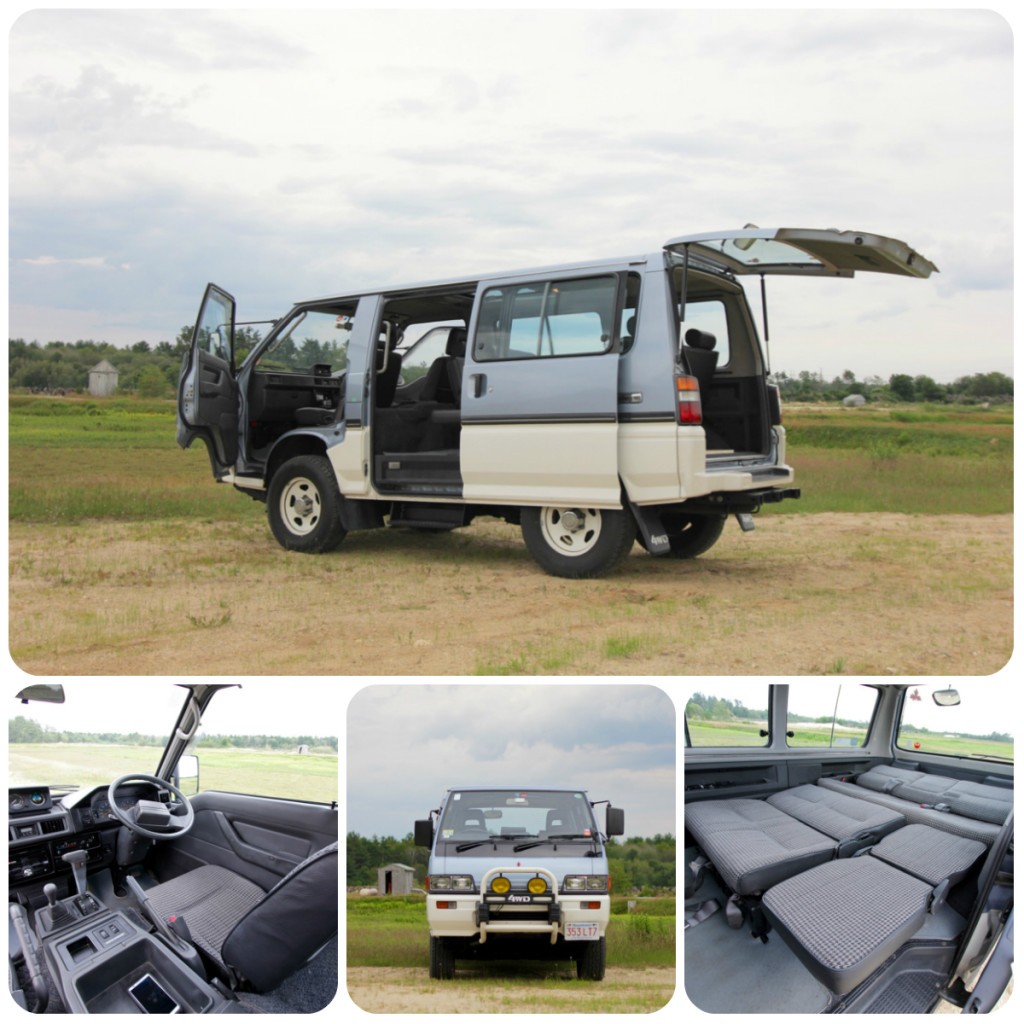 Chris DiRado discovered the 4WD Delica by owning an American market L300 rear-wheel drive version of the Delica known here as simply the van in delivery trim, or wagon in passenger configuration. Chris learned to love the boxy van-wagon, and discovered that there was a 4×4 version known the world over for its off-road ability, but unfortunately never offered stateside. The search was on this elusive 4WD Delica. One deal on a manual-transmission equipped 1987 on an island off the coast of Vancouver fell apart, but then Chris found an importer, told him what he was looking for, and the overseas look out was on.
Queries led to some inspections and a few no go decisions before this Delica passed muster and Chris said go. An excellent condition report trumped wish-list captain's chairs, a manual transmission, and unusual features like the cold box and karaoke machine. This Starwagon is equipped with sunroof, full power windows, dual air conditioning, dash mount gauge pack, and fully transformable and fold flat rear seating for camping or just taking a nap on a long trip. The eighth passenger gets to use the jump seat, which folds up out of sight for seven passenger use. Oddly enough the Delica sports manual door locks.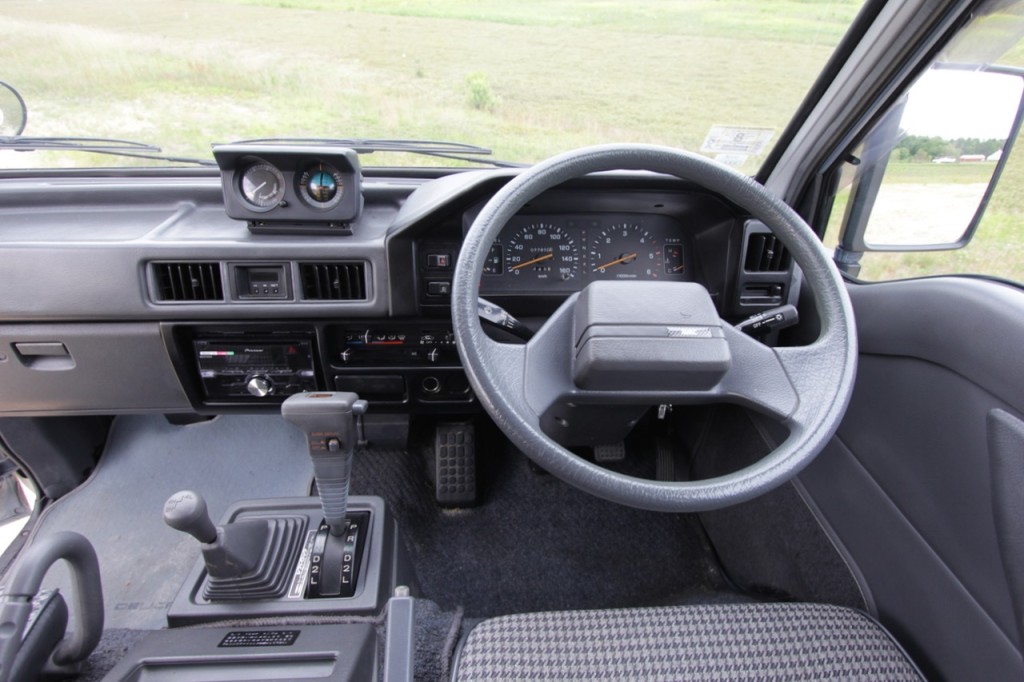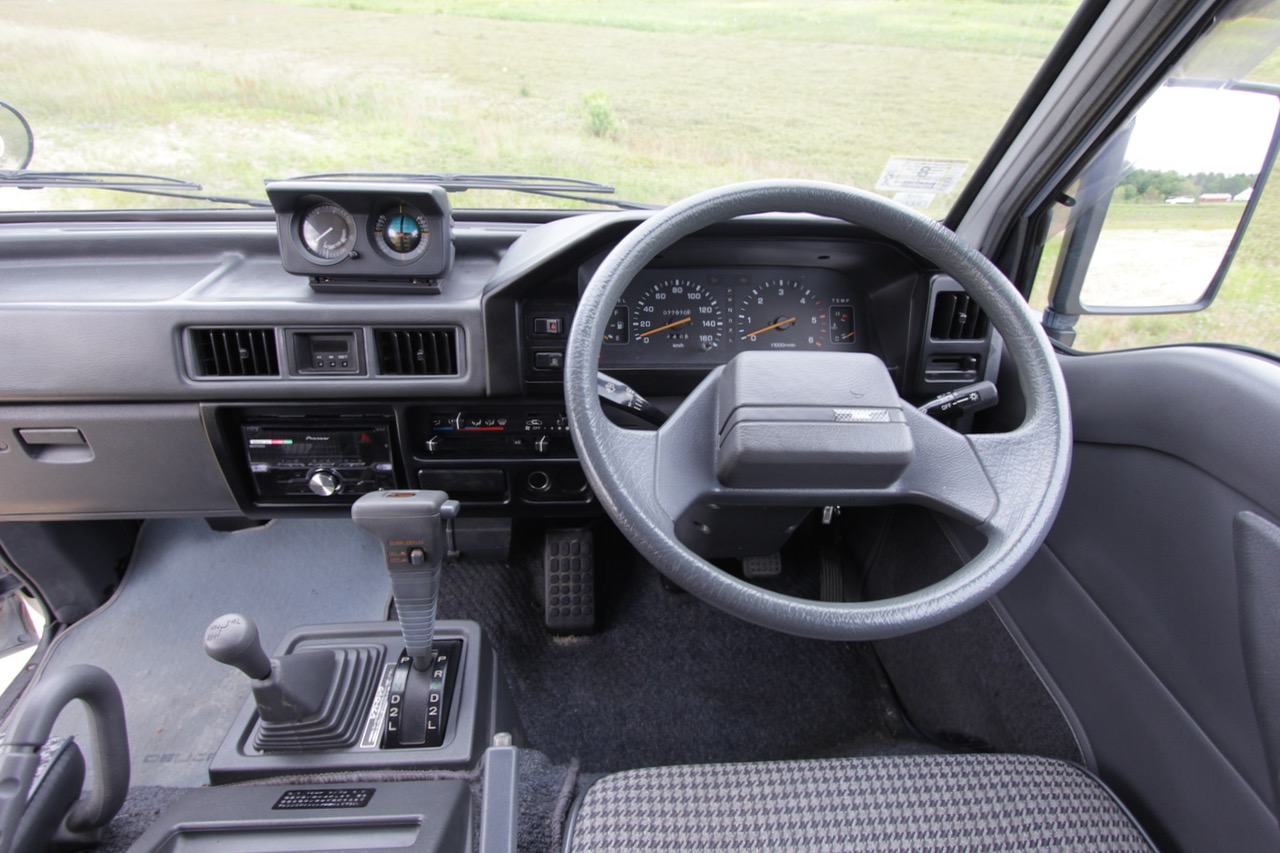 The 2.5-liter turbocharged diesel engine gets the van moving right along. The four-speed automatic transmission is behind the amidships mounted engine in the forward control van. Chris said the Delica averages about 24-26 miles per gallon in mixed New England driving conditions. Top speed is unknown, but Chris has approached an indicated 120 kilometers per hour – or 75 mph. He said it felt like there was more but didn't want to push it any further as maximum versatility is what the 4WD Delica Starwagon was built for, not speed. Chris jokingly estimated that the 0-60 time is best logged with a sundial!
The Delica Starwagon showed about 66,000 kilometers on the odometer when Chris purchased the car at auction in Japan. Including the overseas trip, 1000 kilometer drive back from Toronto, and two years of full family event, car show, and overland transportation the van now shows well over 78,000 kilometers on the clock, a good portion of which was logged off-road and onto the beach. After driving the Delica Chris figures the turbodiesel is an operational bonus over the American market L300 van-wagon 2.4-liter gasoline engine.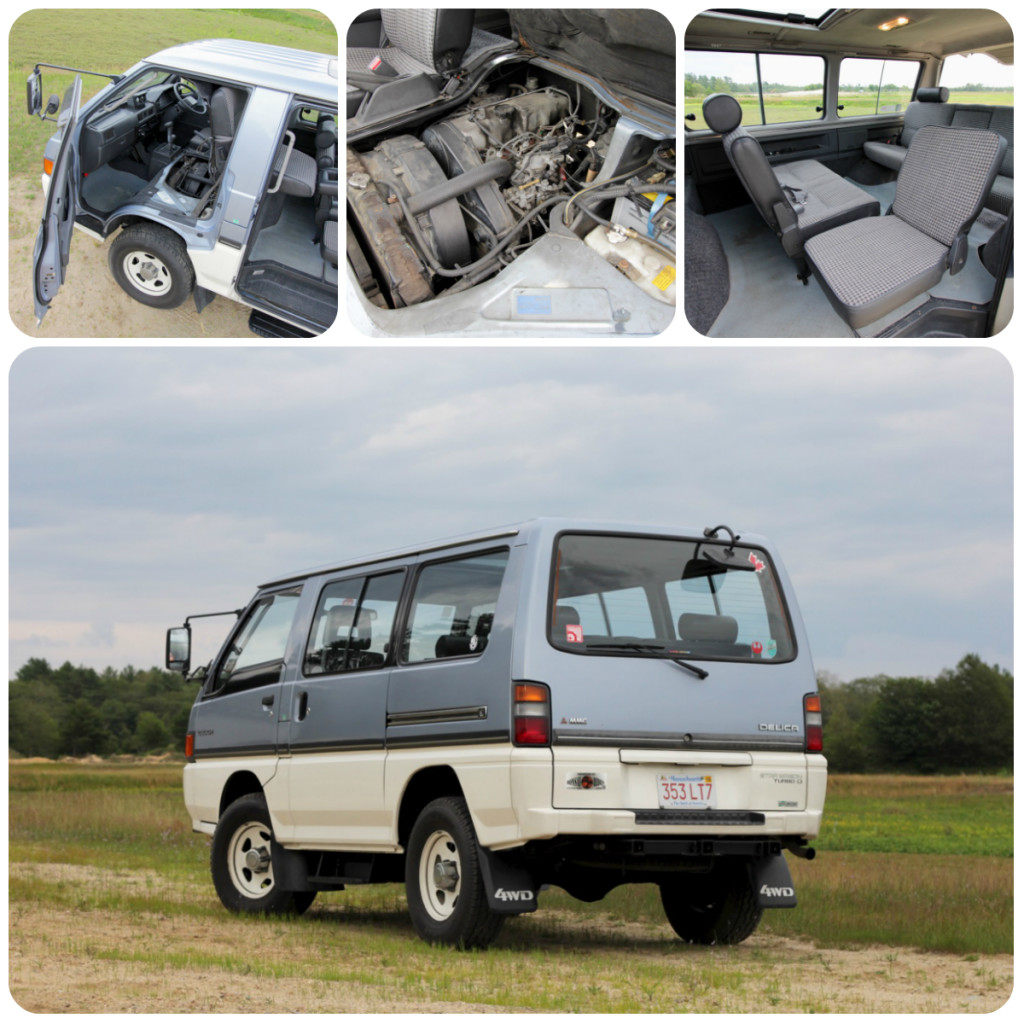 The rear of the Delica rides on a solid axle with leaf springs equipped with drum brakes. A double a-arm front suspension with torsion bars and disc brakes make up the front suspension. Front and rear monotube shock absorbers help make suspension maintenance easy. The Delica Starwagon features a suspension similar to that of the proven-tough Mitsubishi Montero-Pajero-Shogun, which was also available as in 2.5-liter turbodiesel trim, but not for North American markets.
Chris purchased this Starwagon through his importer Craig at Bonsai Rides in January of 2014. After clearing the auction in Japan, the Delica Starwagon began its journey to Yokohama in preparation for its trip across the ocean in a container to Vancouver. The Starwagon then hopped a train to Toronto and arrived sometime in mid-April of 2014. Craig handled everything up to the point where he handed Chris the keys, including a full round of maintenance prior to the trip from Toronto to the greater Boston area.
Even with the low kilometres on the Starwagon Craig and Chris thought it was a sensible idea to put a new timing belt and seals, water pump, all new fluids, and new hoses where they were needed. Chris also had a new set of tires installed due to unknown age and apprehension of DOT concerns at the border, which were first tabled on trip up north to check out the car. A overzealous customs official fed Chris some misinformation about vehicle crushing and other non-truths.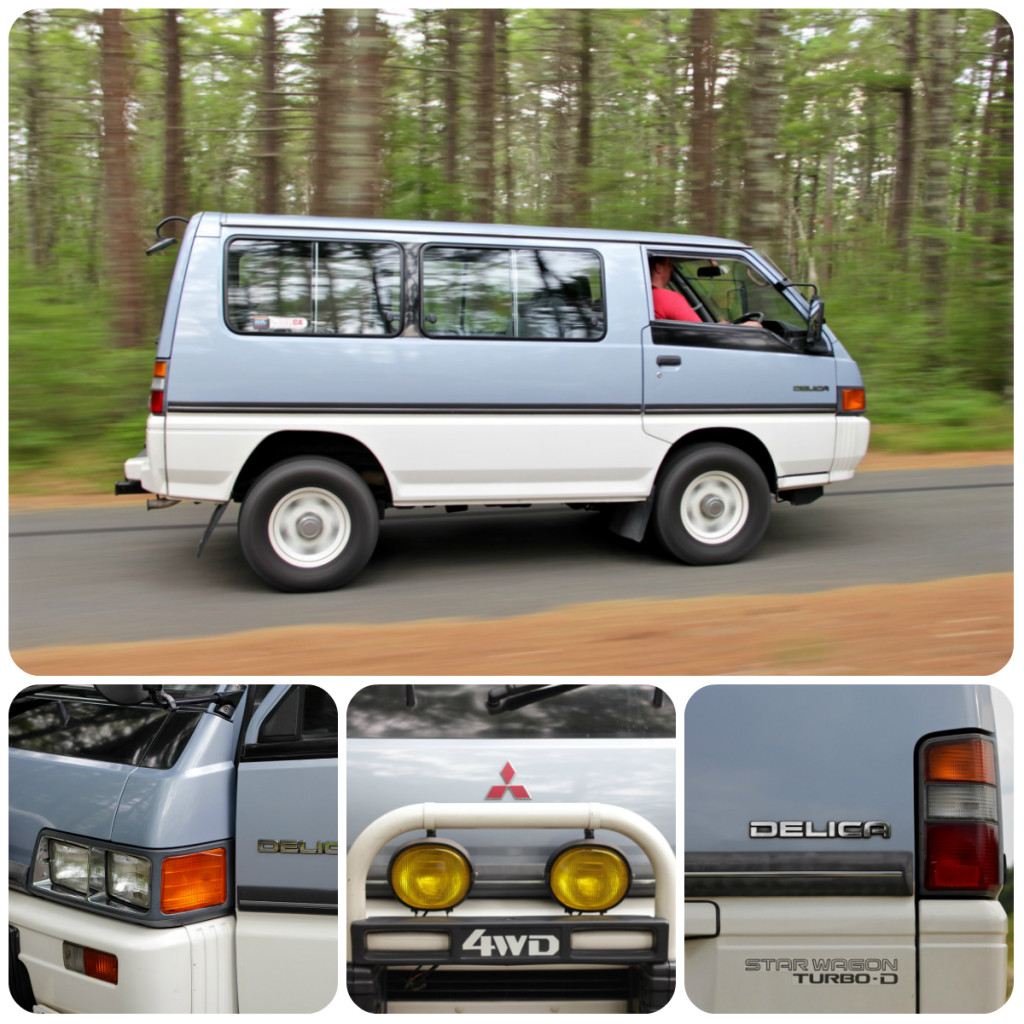 None of the concerns proved to be anything to worry about in the end. Chris knew he had everything sorted though his importer. "The biggest thing I was worried about was the border crossing, and it was probably the easiest part of the whole trip." Even the non-USA VIN number was not a problem at the local DMV. All that was required was to have an officer sign off on the number and the proper paperwork filed for current tags and subsequent legal Delica Starwagon adventure driving.
And drive it Chris does. The Delica serves as family adventure transportation for Chris, his wife Becky, and two boys Lucas and Alex. In fact Chris keeps an extra steering wheel in the Delica for the kids, who sometimes make like they're driving on the passenger side. Big fun is certainly part of the Delica equation, as is a fondness for unusual vehicles, which was what led Chris to the US-market Mitsubishi van-wagon in the first place.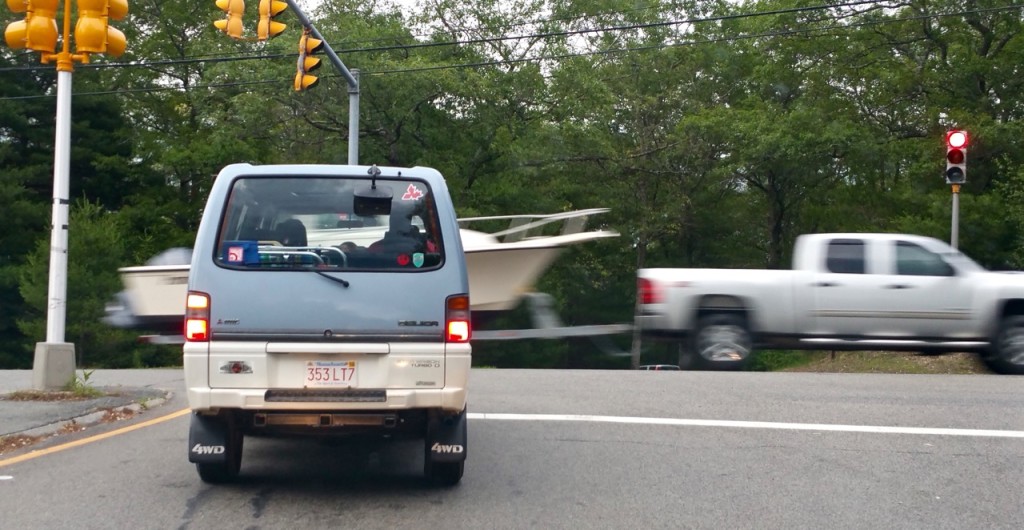 "I like weird vehicles. That's one thing. I had a US-spec van-wagon that I absolutely loved. When I had the L300 I really didn't know that they even made the really cool four wheel drive turbodiesel version. I did a little bit of research and discovered that they had the cool ones everywhere else but here". Chris already knew about the US 25-year exemption rule, decided to stay on target, and wait for a Delica Starwagon to come within range of import.
The biggest piece of advice Chris has for would be Delica owners is not to overthink the importation process to the point of apprehension. The time and logistics of shipping and the long drive from Toronto proved the most grueling part of getting the Delica Starwagon from Japan to his garage, which also includes a 1974 Mazda REPU Rotary pickup truck, a 1979 RX-7 GS, which is really an early production 1978, and another 1974 Mazda Rotary pickup which is more of a project than a runner.
Chris has a set of the Mitsubishi phone dial alloy wheels that he would like to get on the van and has a few minor improvements in the works, but the long term plan is to keep driving the Delica Starwagon wherever it might take him and the family. "I love the fact that it's a four wheel drive minivan with a turbodiesel. When do you see that? Never! I love the utility factor of it. I can have my whole family with me. My RX-7 is awesome but it's not a family vehicle", said Chris.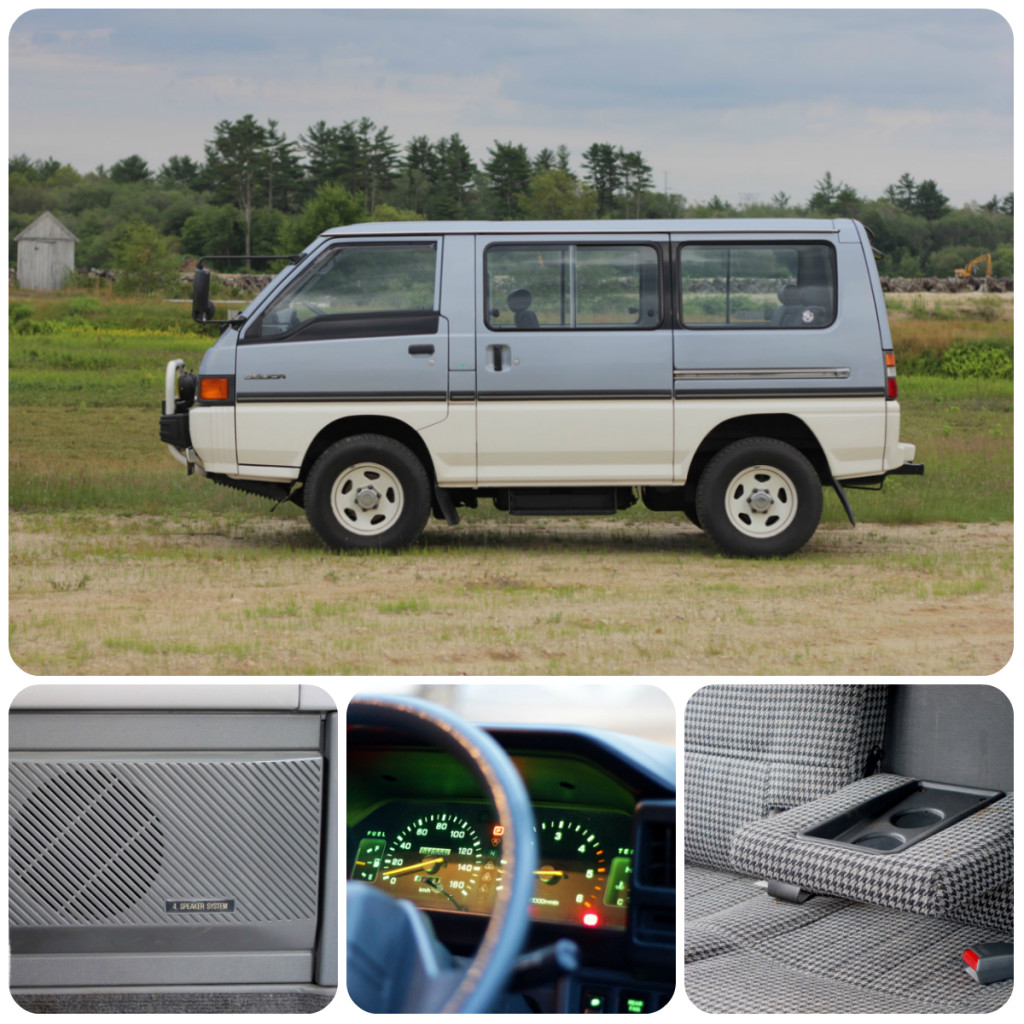 The Delica Starwagon garners a great deal of attention wherever it goes. The biggest surprise is that most everyone that sees it for the first time has no idea what kind of automobile it is, but are fully convinced that it is a brand new car. The right hand drive has most people wondering if the Starwagon came from England. The attention is just one facet of Delica ownership. "It's a really fun vehicle to own and drive. I love the weird looks I get. My kids love it – and that's the most important part", said Chris.  Automakers are so advised to build 4WD Starwagon-like automobiles with great dispatch.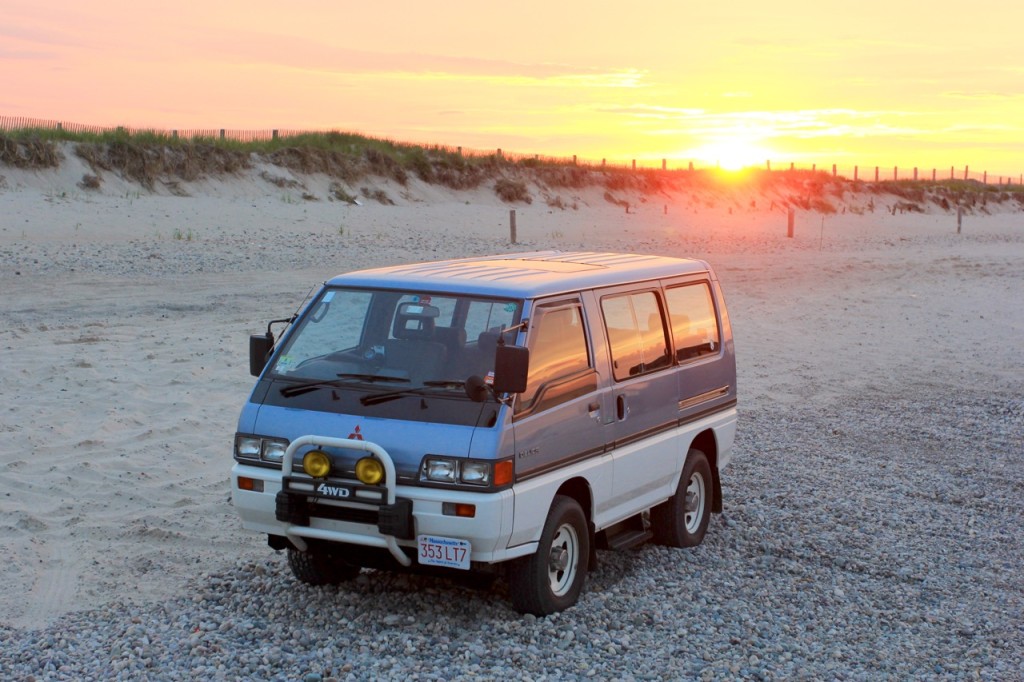 1989 Mitsubishi Delica Starwagon Specifications
Engine: Mitsubishi 4D56-T 2.5-liter inline 4-cylinder OHC turbodiesel
Horsepower: 85
Transmission: Four-speed automatic
Height: 78 inches
Width: 67 inches
Length: 176 inches
Weight: 3850 pounds
Source: Craig at Bonsai Rides