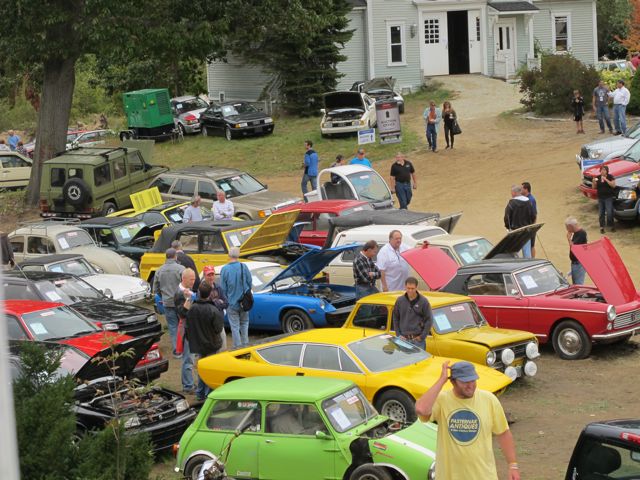 Doctor Bennett himself opened up the Bennett Collection auction with an introduction and a few remarks. What drives a man to build a collection of everything from Hillman Imps to Halibrand Shrike Indy race cars is difficult to sum up, but the Doc abides. "There are two great passions that rule my life. Automobiles and medicine. I'm still doing both. I'm still running a general practice everyday. And this is my collection. I'm 74 years old. You can't take it with you. So I'm hoping you will take it with you! I hope someone ends up as happy as I was to own them. "

The Doctor has obviously been at this collecting business for quite some time. This wasn't the first opportunity for folks with eclectic tastes in cars, boats, bicycles, airplanes, and collectibles to make this a run on sentence. Proceeds from another auction five years ago went to Harvard Medical School, with the goal of helping students that didn't have the financial means match their own determination and dreams. Greed is not good according to Doctor Bennett, and some of the cars sold in that (and we can only guess this) auction came from a surprising source.
In an article from 2007, the Doc says he acquired some of the vast collection through donations given to him in the '70s from Saudi Sheiks whom he cured of unfortunate intravenous drug habits. Gifts were bestowed upon the Doctor for good reason. The penalty for losing your head on drugs in Saudi Arabia is well, losing your head once and for all by way of decapitation! While car auctions usually have us reaching for the nearest bottle of antacid, this auction had the right selection of the right stuff and an outstanding back story. Sold.
The Vermontero was fired into action before sunrise and pointed towards the Atlantic Ocean in a run for New Hampshire on Saturday. The auction ran three days, with a preview on Thursday, and lots moving out on Friday and Saturday. Of particular interest were the fleet of Madza GTX, a few Ducatis, and a Mini that was fully prepared – complete with turbocharger. We would try to bid. Registration was a snap. Fire up the Auctions America web site and enter the required information. Pay the 50.00 fee and put up a credit card for a deposit hold.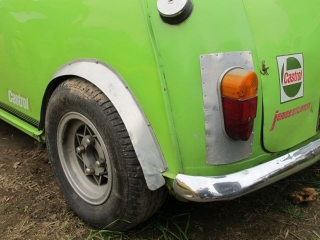 There are usually plenty of fine cars at any classic car auction. There are also cars that were seemingly located at dealer auction or estate, quickly detailed, and often resprayed days (if not hours) before the preview with the finest single stage automotive fleet paint that money can buy. There is something about the stark contrast between a moldy interior, crumbling cardboard box full of spares, and paint that still reeks of reducer that has us reaching for the antacid again.
This was not the case with the stuff at the Bennett Collection, which displayed patina and wear only possible from proper use, barn or yard storage, and were in a state ready for the next owner to drive away, restore, repair, or burble into another barn. Along with fine automobiles of every stripe were those that would need at least a battery, possibly some wheel cylinders, and maybe a re-cored radiator, or fresh set of balonies. These were honest cars for honest people, cars for folks that liked to fix and drive cars. In other words: our kind of auction.
But what about all the Mazda GTX? The Doc told us he read about the turbo AWD homologated hatches in an Autoweek article back in the eighties, in which the writer suggested that if you see one of the cars – take it for a joyride. The light bulb went on, and Doctor Bennett phoned up a few insurance companies in the Boston area with the thought they might have a post-joyride salvage Mazda GTX or two. They did. That first salvage GTX was missing its interior, but so began the GTX obsession. The Doc said one of the GTX lots had a worked 600hp engine and complete NOS drivetrain.
The lots moved quickly and sold varying degrees of prices, and even though we reluctantly admit it publicly, sadly out of the range of the Clunkbudget at the current time. There's a far smaller collection of stuff in the garage right now, and the reality is engines and assemblies need tending more the garage needs new additions to the fleet. The Clunkbucket Collection has already pushed the Clunkbudget deep into the red. Phooey!
Collections can and do start anywhere. The Doc collects stuff because he enjoys it. For him it seemed to be in large part about making things go. An Alfa Romeo "gentleman's racer" with a long six twin cam packing triple Webers in place of the four cylinder. A mini with a turbocharger. More Mazda GTX and GT-R AWD turbo cars than we had ever seen in one place, a few hopped up by the Doc's own account. We can only hope that the winners not only got their lots home, but that they also took a tankful or two of Doctor Bennett's passion along with them.
Head over to Auctions America and look for the auction results to see for what sold for how much.