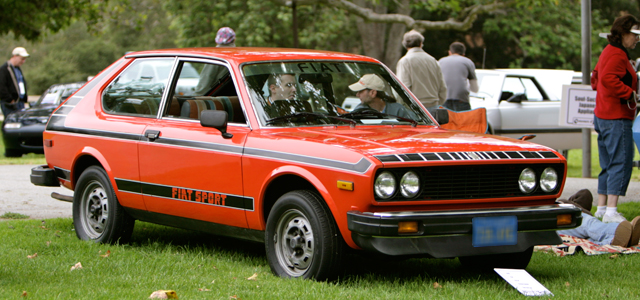 From the I could have been a contender department comes this bone stock all-original survivor 1978 Fiat 128 Sport from the 2010 Concours d'Lemons. The plucky Fiat did not take home a prize of any kind. It stands as the first of a few coming contraptions that for reasons not understood went home sans trophy. Owner Steve has driven the Fiat occasionally and on the weekends since acquiring the dust-covered compact several years ago from a man with a possible top secret past. This is the first time Steve took the Fiat to any sort of show, and the farthest the Fiat had ever gone from its Santa Clara, California home.
1300 cubic centimeters of Fiat SOHC fury drives the front wheels through a 4-speed manual transmission under the stylish exterior. At 70 mph on the highway the high-strung Italian special is spinning the crank around 4100 plus RPM. While not a great freeway runner, the rev-happy mill does well for canyon carving and makes for an enjoyable runabout. Steve originally spied the Fiat on the way to a Santa Clara, California garage sale with a for sale sign on it, but the asking price was too steep. A year later in the same driveway Steve saw the dust-covered car once more. Another offer was made. "OK. You come buy car", said the owner. The deal was almost done.
The bald, chain-smoking, Polish owner complete with villainous scar reminded Steve of a agent from S.P.E.C.T.R.E or similar secret organization of calamitous intent. One stipulation of the sale was that Steve roll by in the Fiat now and again to show the original owner that the fine Italian machine was being well-cared for. The agent was pleased the last time Steve drove it over. The original title shows the car was payed off to the Polish Credit Union after purchase from San Jose Fiat in 1978, but shows no records of secret agency involvement or participation in Soviet spy defection programs.