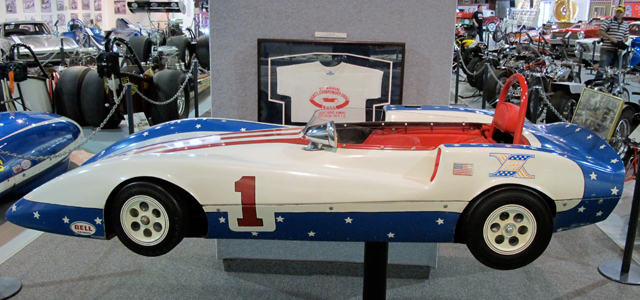 On this Independence Day it is time to celebrate the ingenuity that makes this country great. This endurance racing kart was built and driven by Duffy Livingstone, a man considered the father of the modern Go Kart. Like so many other forms of mechanized mayhem that later become motorsport, karting started with castaways and discarded junk combined with a crazy idea. Before there was Go Kart, Livingstone was looking to improve his Ford Model T road racer and increase disdain among Maserati and Ferrari drivers out on corners. Since his buddy Art Engels worked for Curtis Craft, Duffy thought a trip to the Curtis Craft shop might give him some ideas for a new tube chassis car he was thinking about. What Duffy saw up on a bench there changed everything. Art had got a deal on some castaway lawnmower engines, one of which was bolted up to what looked like a smaller than quarter-midget race car.
This archetypal racing kart at Curtis Craft got Duffy to thinking he could build one too. He asked Art for permission to build something similar, and got to work constructing not one but two karts back in his Monrovia, California muffler shop. Duffy's partner in mufflers Roy Desbrow got an eyeful of what Duffy was building and started building one or two karts of his own. This effect snowballed. Most everyone that saw the karts in the muffler shop decided they were going to build at least one more. In a stroke of true genius, Livingstone called Art Engels and suggested the lot of them meet down at the Rose Bowl in Pasadena, California and take the carts out and go round and round like the real roudy-round racers. Some cones were scrounged up to map out a road racing course for subsequent gatherings, and kart racing was born.
After these troublemakers got noticed by the media, kicked out of the Rose Bowl, and then nearly every other parking lot in the greater Los Angeles area, Duffy and Roy took the kart operation to another level and leased a plot from the AeroJet General Corporation in Azusa, California. Creative and ad man Lynn Wineland came up with some names for the little race cars as consumer demand increased. Go Kart. Dart Kart. Zip Kart. Fun Kart. It was Go Kart that was copyrighted, and the name stuck. Go Kart Manufacturing, Co. Inc. was established in 1958, and featured a racing track behind the manufacturing facility in Azusa. The city that had everything from A to Z in the USA was the home of the Go Kart. The karting craze became so huge that by 1962 there were over thirty companies building and selling karts. The original company that introduced the phrase Go Kart into the lexicon of greatness eventually became victim of its own success.
The Go Kart Manufacturing Company ceased to exist, but Duffy Livingstone didn't stop kart racing. The streamlined FKE-chassied kart shown here was built and driven by Duffy Livingstone in the early seventies, and is currently on display at the NHRA Motorsports Museum. Duffy also helped establish the Go Kart Club of America, and served on its Board of Directors for 21 consecutive years. This organization is now known as the International Karting Federation. Duffy was clocked at 121 miles per hour on the straights in this very kart on his way to winning the 1971 National Championship at Ontario Motor Speedway. The achievements of one guy who road raced a Ford Model T that he bought for less than a sawbuck, helped a local trend go international, and drove this red white and blue streamlined kart to victory serve as a reminder to celebrate independence and free thinking not just today, but every day.
Thanks to a video interview with Duffy Livingstone himself, the NHRA Motorsports Museum,  and the History of Go Kart Manufacturing by Don Boberick