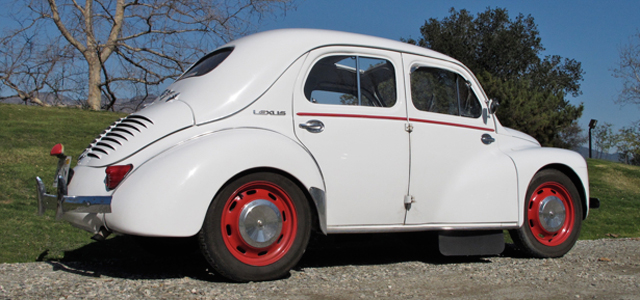 Over a million Renault 4CV sedans can't be wrong. Sales of the 4CV hit half a million units in 1954, and surpassed the million mark by 1960. The 4CV was sold here in America, and manufactured under license as the HINO 4CV in Japan. And what's not to like? Rear engine. Developed in total secrecy by a German-occupied WW2 France. Rear wheel drive. Cheap to buy when produced. Still relatively easy to hop-up with proven modifications, as long as there's a few spare parts kicking around. Very light at 1230 or so pounds. The Volkswagen-like 4CV is even the progenitor of the rally-winning Alpine A106. Larry Peacock has one more great reason why he digs his 1960 Renault 4CV with a Lexus emblem glued onto the side. It hasn't caught on fire and burned to the ground like his Citroen SM did.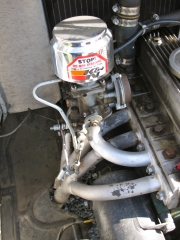 Larry rescued this 4CV from its previous owner back in 2004, waking it up from an long nap while oxidizing into some high desert sand. Three years later, Larry had the Renault back on the road in better shape than it came from the factory. Larry says he's got about 5K miles on the rebuilt engine, which was punched out to 900cc from its original 748cc displacement. Larry claims around 25-39 miles per gallon fuel economy, with a comfortable cruising speed of 65 miles per hour – no small feat for a car originally designed around a 17 horsepower engine. By 1960 the 748cc engine was rated around 21 ponies. Larry says this one is making more than that, he just doesn't know how much more.
The single downdraft carburetor is connected to a combo hi-rise intake manifold and header bolted up to the the non-crossflow Renault cylinder head. The 900 cubic centimeters of fury breathe in through a K&N filter and out through custom exhaust equipped with a Trush muffler. The punch in the holes comes by way of a set of domed higher-than-stock compression pistons. Larry's 4CV has four forward gears, giving it one more than the original transmission purportedly by way of a Dauphine gearbox. The 65 mph cruising speed is comfortable. Will it go faster? Certainly. Many a brave man has asked the same question since the first 4CV rolled off the line in 1947. Good thing an intrepid few are still asking the same question today.
Larry Peacock's Hopped-Up 1960 Renault 4CV Gallery