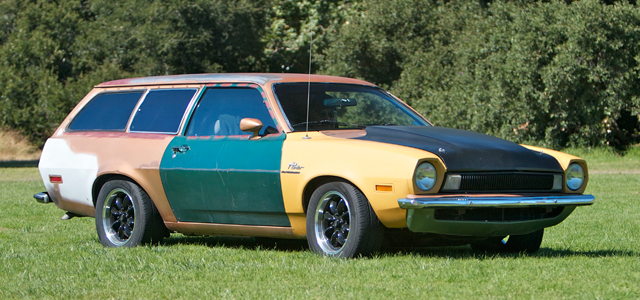 Mike Streets could have crammed one of many and readily available Ford V8 mills into the engine bay of his 1974 Pinto Wagon. Instead he chose to transplant a 2.3-liter single overhead cam turbocharged four-banger from a 1988 Ford Thunderbird in place of the aspirated stocker. Why? "A V8 would have been too easy", said Mike – who is a former SCCA Pinto road racer and current owner of the now legendary Boss Pinto. Mike drives this wagon-in-progress whenever possible, running the boost at around 9 or 10 psi through the stock turbo for road going amusement. What you see here is only the beginning, or perhaps the late middle of an ongoing project that will eventually result in the turbocharged Boss Pinto panel wagon Ford never made.
Mike replaced the OEM rubber A-frame bushings with stout Delrin units after the stick engine was removed. The Ford turbo 2.3-liter turbo four is mated up to a Ford C-4 automatic transmission with some shift improvement added. The engine and trans spin a Ford 8-inch rear sourced from a V6-equipped Pinto that holds a set of 3:55 gears and a mini-spool. A four-link suspension is waiting for installation out back, along with a set of rear disc brakes. The stock front disc brake binders hold a set of Raybestos performance pads. The intercooler takes in cold air through the grille mounted intake, and blows it down over the turbo through a custom-fab air box from Ros-Co Fab in Hayward, California. The Boss Pinto turbo panel wagon to be rolls on Rota wheels.

As Mike has no love whatsoever for doing bodywork, most if not all of the body parts on the turbo wagon were straight rust-free donor pieces to begin with. This practice goes far to explain the current color scheme. The fiberglass cowl hood was shaped down from a Mustang piece and bonded with the stock steel Pinto hood frame with the steel skin removed. The wagon will eventually get bathed in a slightly knocked down hue of modern Ford Grabber Orange. While the Pinto longroof sports rear windows now, the plan is to replace glass with steel, and finish the panel wagon off with a Boss Pinto stripe package that starts out at the fender and swoops up and over where the glass once was.  No word yet on what shape of vacuformed porthole is going in on the passenger side.
Mike Streets drove the Pinto turbo wagon to the Concours d'Lemons from his home base in Hayward, California and had fun with a few Corvettes along the way.