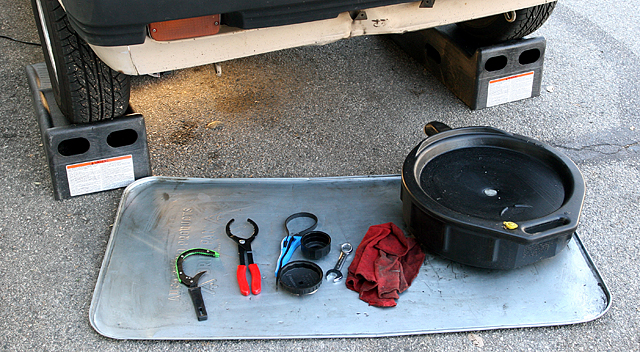 Changing the oil and filter on a regular basis is the single best way to keep an engine running as long and best as possible. A thin film of oil molecules is the only thing that keeps gnashing engine internals from turning into an expensive heap of scrap metal by way of friction and heat. Another function of engine oil is to keep those same engine parts clean. Dropping out the oil and swapping in a new oil filter takes but about an hour, and can mark the beginning of a do-it-yourself tradition of maintaining your engine and wrenching on your ride.
Why Change the Oil?
Even though engines run cleaner and more efficiently than ever before, some of the by-products of combustion end up as junk in the oil. A certain amount of metal will also float into the oil as the engine normally wears. Engine oil and oil filters can only suspend and contain so much crud and combustion by-products, before the balance of lubrication shifts away from trouble free motoring and towards engine wear. Changing the oil and filter gets rid of the crud. The engine stays cleaner and lasts longer.
E-Z Step-by-Step How-to Change Oil and Filter
When to Change the Oil
The best advice to follow as far as engine oil and filter changes comes from the folks that built your car. Every 3000-5000 miles or three months is conventional thinking. Stop-and-go city driving can qualify as "severe duty" when it comes to maintenance schedules, and require more frequent changes. Spending 20 bucks on an oil and filter change every few months is still less costly than a new engine – even over the course of multiple oil changes. Always prevent oil spills by containment. Drain containers and drip pans are also cheap, making it easy to recycle the used oil and properly dispose of the filter.
Useful Things:
The biggest drip pan that fits under the engine
A container or oil drain pan to catch and store used oil
A wrench for the drain plug
Oil filter wrench
Recommended oil and oil filter
Disposable gloves
Shop rags, and lots of them
A new drain plug gasket