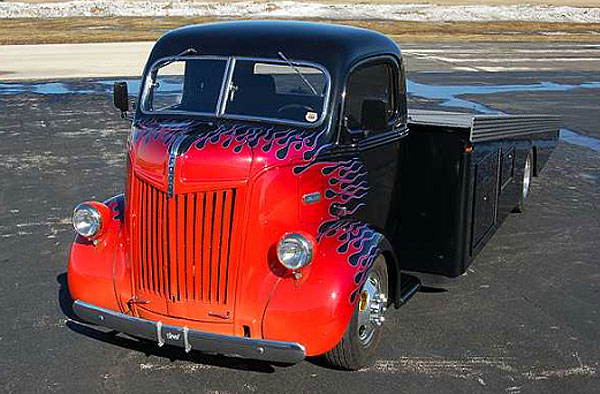 Behold this 1942 Ford COE Rollback with a 7.3-liter diesel Ford and Gale Banks supercharger. There's a 4.11 Dana 70 Posi rear end, too. Did we mention working AC? But, like most children, we're just enamored by the paint job. Jack Safro and his family referred to this good looking hauler as the Pug. Here's a little background info on Jack:
Jack Safro began his association with automobiles by working a night job in high school recapping tires. After years of owning a service station, in 1962 he began a used-car business, complete with a one-car showroom, calling it "Jack Safro's Pewaukee Motors". In 1967 Jack opened a dealership for a little known Japanese brand, Toyota, thus beginning a fruitful import sales career that saw the addition of Lexus and Infiniti dealerships.
Mr. Safro collected a whole mess of interesting (and some might say amazing) cars, all of which are now up for auction. But which vehicle did the mighty Pug transport?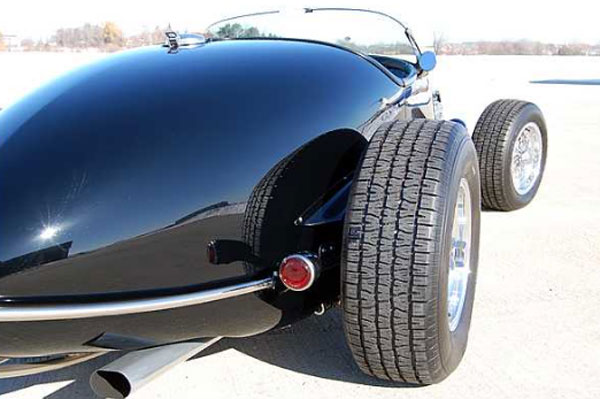 This 1932 Ford Ardun Special Roadster, of course. Hand built by master craftsman Ray Kinney, this particular rod features too much good stuff to fully cover here. But how about a taste?
A finely-detailed chassis carries a 296ci '53 Mercury Flathead pro-built by longtime Indy crew chief Dick Russell that features Cunningham rods, special Ardun hemi cylinder heads, roller rockers and a Demon carburetor. It's perfectly set into the chassis, low enough to allow a completely smooth hood yet wide enough that the Ardun heads show indiscreetly through the sheetmetal on either side. Sticking to the Blue Oval theme, a Borg-Warner 5-speed feeds the flathead's power to a Ford 9-inch rear, all of it rolling on chromed Borrani wires.
Yeah man, a Mercury flathead with Ardun heads rolling on the wires is many of our dreams come true. And can you imagine — if only for a moment — just how exceedingly awesome it must have been to see the Pug rolling up with the Ardun-equipped beauty strapped to its back? Exactly. Here's one more picture: