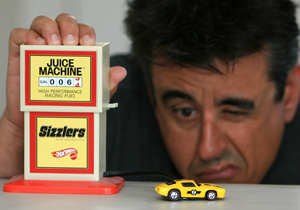 While new cars are not what Clunkbucket is about, there is legislation afoot that could well destroy the future of American automotive history before it even gets a chance to happen. There's not much that gets me teeth grinding tire gnashing mad anymore, except things like this so-called Cash for Clunkers program.
Of this writing, it's hard to tell exactly what the poorly named Cash for Clunkers bill actually is. The program reads and sounds like a great idea. Trade in that oil-spewing behemoth of a vehicle and get a pile of cash for a brand new car that emits nothing but flowers and sunshine! That old clunker? Crushed for good, with no eligibility for recycling.
Here's the deal. Attempting to consume our way out of a consumption-based problem through a federally funded bailout is a poor plan for a variety of reasons. Worse, is that a compromise between an emissions-based and fuel economy-based proposals seem to have recently boiled down to legislative pabulum. Better to scrap this entire program now then hastily push through another poorly thought out mess that could cost us billions, and solve no actual problems other than smoothing the political feathers of a few ruffled representatives.
The throwaways of automotive culture have sparked motoring trends that over time have become part of our cultural fabric and created giant economic engines of their own. Back in the '40s and '50s it was kids tearing the fenders off '30s Fords and hopping up the engines to make gow jobs, or what we now know as hot rods. Affordable Toyota Corollas and talented drivers begat drifting in Japan. The trend has sparked global enthusiasm for precision driving and older rear-drive cars. American drag racers shoehorning high horsepower supercharged engines into all manner of Fiat Topolinos and Willys coupes created the legendary Gassers. Even from the wheezy Volkswagen Beetle sprang industry built up around aftermarket performance and style. Seriously. Who doesn't want a gold metalflake Meyers Manx Dune Buggy with a stinger exhaust pipe?
Clunkers and the other castaways of the automotive world are what keeps vintage motoring interesting. Let it be said here and now that if you're thinking I'm advocating a Luddite-style approach to classic and neo-classic automobiles you are mistaken. Clunkbucket officially encourages the swapping of newer, more efficient, and cleaner burning engines and powertrains into older vehicles. There is efficiency to be found, as many older vehicles are lighter than their modern contemporaries. Swapping alternative fuel and propulsion technologies into existing older automobiles is another capital idea. Advocates of Cash for Clunkers legislation would have you believe that older cars are gas-guzzling despoilers of the environment. To these people who seemingly want to remove all semblance of joy and entertainment from driving and motoring, I present the 1984 Toyota Starlet – which was rated at 55-mpg highway over twenty years ago. Even better is the Spirit of '76 Dodge Dart Lite.
Cash for Clunkers is an unfortunate name for an ineffective program we'll all get to pay for again with interest later. Less expensive but far more effective would be to change laws and regulations to allow automakers and individuals to import already existing highly-efficient automobiles. Because of the Byzantine complexity of federal and state regulations, many of these machines are simply not allowed on American roads. Japan has its Kei cars and Superminis. Europe its diesels. Automakers have manufacturing and engineering facilities right here at home. Rewarding profit margin blinded executives and misguided consumers for making poor automotive choices by way of a taxpayer funded voucher program is a simply terrible idea. Crushing cars and crippling an entire aftermarket automotive industry could be the unfortunate results. Stifling innovation through subsidy and ignoring our automotive heritage is precisely what got us into this mess in the first place.
The short-term solution for existing less efficient vehicles is to increase their practical efficiency by having more fun. If you own one of these older evil, gas-huffing SUVs, minivans, full-size vans or cars, it is your responsibility as an American to put as many people as possible in it and bring them to work, the movies, or out to a delicious meal. When summer comes? Stuff that Potemkin-class behemoth full of kids, parents, beach balls, friends and icy coolers and go to the lake or motor out by-the-sea. Depending on how many passengers climb aboard your automobile and get out of theirs, this simple practice could increase practical vehicle efficiency three-to-seven-fold! Less traffic on the way out to the lake is another bonus.
The problem is not so much with the automobile itself, but what we all do with the automobile. Yet another federal bailout disguised as a voucher problem in the name of the environment is not going to change our consumption habits, or the way we use and appreciate the automobile. Just say no to any more of this nonsense, and save our clunkers and future classics from being needlessly crushed in the process.
We live in a Democracy, and the internet has evidently made Goverment easy! Contact your elected official and let them know how you feel.