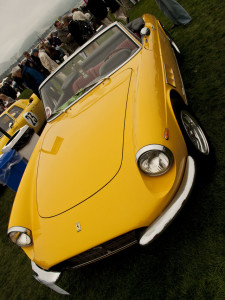 We first encountered this Ferrari in true Clunkbucket fashion. The owner, Scott Isquick of Pepper Pike, Ohio, was having a little trouble getting it started outside the post-show banquet at the 2008 Greenwich Concours. Finally, the 4.0 liter V12 caught, interrupting the sharp mechanical shriek of the starter. The '67 motored off into the Connecticut darkness, leaving a dark hole where its rather inexplicable aura — something beyond mere Ferrari-ness — had held us rapt. The drive back to Manhattan in our borrowed '05 Rolls-Royce Phantom felt a little less special after the encounter with the one-of-99 330 GTS. In fact, we recall positing at the time that we'd gladly trade three of the Anglo-Teutonic brutes for that particular Italian droptop.
We knew nothing about the car, other than that it had made an indelible impression. Any encounter with a 330 since has brought back memories of that night, of that car. Suffice to say, it was the most pleasant kind of shock to stumble onto the Spider on the green at this year's Pebble Beach Concours d'Elegance. Amid a sea of rarer cars — indeed, the 330 was parked next to a 250 LM in the same shade of yellow — the convertible still stood out. We struck up a conversation with the Isquicks and found out that the car is about as original as can be; it still sits as it was spec'd by Luigi Chinetti himself (from whom Scott purchased the car), with a rare red leather interior and unusual three-abreast seating. It's as if Chinetti had envisioned the perfect family-starter for the well-to-do single man.
How? Step one, buy the Ferrari. Step two, meet a beautiful woman driving said car. Step three, make a baby. Step four, enjoy long drives in the country with the family, picknicking from the 330's surprisingly spacious trunk. Scott and his wife Pamela entered the car in the Historic Preservation class, mild cracks in the paint; a few rust bubbles in the fenders. Were it not worth a trunk of doubloons due to the originality, relative rarity, and the all-important Chinetti provenance, one wouldn't hesitate to think of it as a nice driver. As such, it's the car we would've been happiest to drive off the green — even if it didn't start on the first turn of the key.