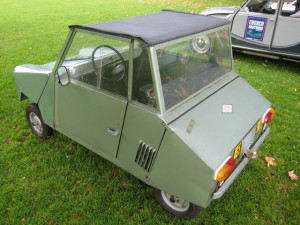 Michael Harrell owns two out of an estimated two thousand KV Mini 1 automobiles ever made. He occasionally drives this one to work. With those facts in mind it seems only fitting that his 1980 KV Mini 1 took top Worst of Show honors at the first annual Concours d'LeMons show in Monterey, California. The KV company manufactured scooters and other motor contraptions like the Solyto delivery van before creating an automobile, that through a loophole in French law, required no license to drive! As Michael jokingly informed us when we asked – they were French. The company is no longer in business.
Michael first saw the tiny KV runabout on the internets at the Microcar Museum and was immediately hooked. After a few more years and another owner, the 1980 beauty appeared on eBay. Owning one KV led to owning two. With the museum-quality KV finally in his garage, Harrell picked up another KV from Britain for parts. There were never any dealers in North America, and the KV Mini was an oddity even in France. The KV Mini was not legally or technically considered a conventional automobile, and therefore required no conventional license. Voiture sans permis!
This particular version of the KV Mini packs the two-stroke 125cc big block. KV also made a version with a slightly more than twice as thrifty 50cc engine in place of the 125cc. And before you think about swapping in a dirt bike engine out of an old Hodaka, the KV engine is designed to turn the belt and capstan drive in both directions depending on desired direction of travel. KV built their engines to spin both ways. The engine will start and fire in one rotation or the other to send the KV hurtling reverse or forward. Even with a drivetrain that Harrell admits is "horribly inefficient", he still manages to squeeze 50 miles out of a gallon of gasoline. For now.
"I do live in some trepidation of finding engine parts, because they built their own engines", said Michael.
The belt and capstan drive axle carriage is spring loaded against the tires and sends power to the wheels through a pair of stones. Literally. The drive stones are actually grindstones. Traction is maintained as the stones dig into the tires. Earlier versions of the KV Mini had adjustable tension spring rate kits for tailoring traction, but the engineering department dropped this in favor of a non-customizable system to simplify end user operations. The tires are coincidentally the same size as a Cushman scooter, which makes them available for replacements via the efforts of the Cushman crowd.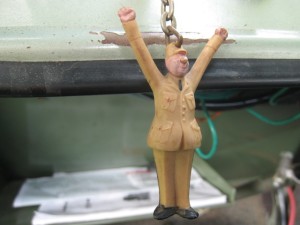 According to Harrell there was only one option available for the KV Mini 1, and that option is today made of unobtanium. The legendary Snow Kit was a factory installed system of scraper blades that shaved away snow and ice ahead of the grindstone drive wheels. The system prevented ice or snow buildup on the tires that would render the traction drive system useless. This option is key to using the KV to motor up into the Alps for skiing excursions. Enterprising individuals could probably adapt the snow kit to sharpen knives and scissors during the summer months, adding business opportunity to the grinding stone-based bi-directional drive system. The Charles de Gaulle keyfob is not a factory piece.
Top honor in a car that requires no license to drive is a fitting reward for the Seattle-based Harrell's minicar restification efforts. With a 35 mile per hour top speed limiting the KV to mostly local excursions, Michael made a wise choice to tow the car down from his home base in Seattle – behind his 1974 1/2 MGB! Harrell told us he motored down solely for the Concours d'LeMons. His Herculean efforts to deliver this diminutive automobile to the masses did not go unrewarded, and paid off with the highest achievement of Worst of Show.