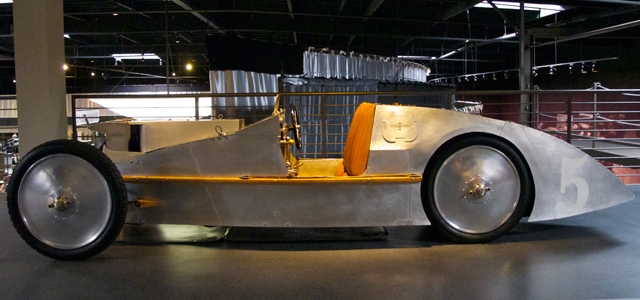 Racing cars with propellers are something we would need more of around here. The propeller on this 1923 Voisin C6 Laboratoire Grand Prix special worked in reverse, utilizing otherwise unused energy borrowed from the blazing 100+ mile per hour top speed of the Voisin to circulate engine coolant in an attempt to keep the near 2000 cubic centimeter sleeve valve straight six from overheating. The Voisin C6 Laboratoire was the first Grand Prix car to use a lightweight monocoque construction and aircraft derived slippery aerodynamics together, but could not break pace against its competitors. Four Laboratories started the 1923 Grand Prix, but only one crossed the finish line. The engine was not enough even for this lightweight car. The propellers spun, but not for victory.
More: Andre Lefebvre and the Cars He Created at Voisin and Citroen
The Voisin C6 Laboratoire shown is an exact replica built from the original plans and parts, on display at the Mullin Automotive Museum in Oxnard, California.